Non-toxic inks are a prerequisite for use today in all sectors of the printing industry. Tougher demands are applied to the inks used for printing on commodities, food packaging, medical products and in the toy industry. The latter in particular is facing special challenges, since babies and small children often explore their toys by touching and using their mouths by sucking and chewing. This demands higher safety requirements, especially in terms of the chemicals used in printing inks on toys:
Norms and regulations have thus existed to ensure the safety of toys for years in this sector. They are intended to guarantee compliance with common safety standards within the European Union. These toy regulations have recently been revised and are now described in Directive 2009/48/EU. Compliance with the stipulated chemical safety requirements stated in the regulation is also regulated by the EN 71 norm series (Toy Safety). For coloring and printing toys or toy components, EN 71-3:2013 is the primary applicable regulation. The list of the hazardous substances in this norm was expanded to 19 substances and some of the limit values for the protection of the consumer (children) were tightened considerably. Discussions are currently underway about lowering the limit value of substances such as barium.
Particular safety requirements, III chemical requirements of Directive 2009/48/EC, migration limits from toys or components of toys (as compared with EN 71-3:1994)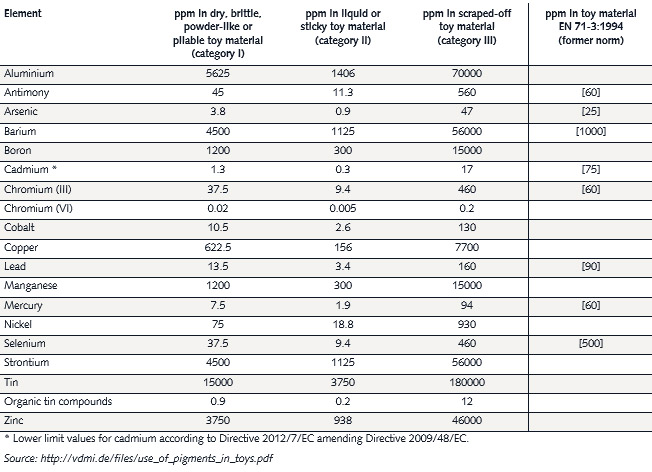 The permissible migration values depend on the type of material the toy is made of, and are divided into three categories as shown in the table above. Due to the in-part extremely low limit values, which are within the range of trace impurities or ubiquitous amounts, compliance with these limits cannot be ensured without analysis of the printed end product. Such analyses can be carried out by accredited laboratories (such as SQTS, SGS Institut Fresenius, Intertek, TÜV). The toy manufacturer is responsible for compliance with legal requirements for toys.
Based on the known information on the raw materials used and a professional handling of the printing inks, se-lected Printcolor ink series comply with the new 2009/48/EU regulation and thus also with EN 71-3:2013. How-ever, still has to be verified by an accredited laboratory by means of migration regulations.
Printing Inks for the Toy Industry - EN 71-3:2013